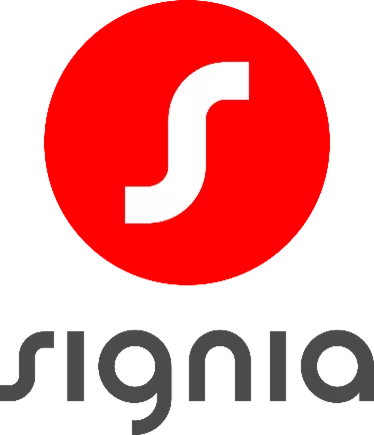 WS Audiology / Signia
WS Audiology wurde 2019 durch den Zusammenschluss von Sivantos und Widex gegründet und vereint über 140 Jahre Erfahrung in der Pionierarbeit um Menschen mit Hörverlust zu helfen...die Klänge zu hören, die das Leben wunderbar machen. Wir sind in über 125 Märkten aktiv und beschäftigen weltweit 11.000 Mitarbeiter. Unser breites Portfolio an hörgerätebezogenen Produkten und Dienstleistungen generiert einen Jahresumsatz von rund 2,0 Milliarden USD.
Als Teil der medizinisch systemrelevanten Industrie sind wir krisensicher und nachhaltig im deutschen und internationalen Markt aufgestellt.
Unsere Unternehmens-DNA ist geprägt von Hightech, Agilität und kontinuierlichem Vorwärtsdenken.
Unsere Produkte sind Benchmark für Kunden und Wettbewerber. In Technologie, Produkteinführung, Wertschöpfung, Anpassungsfähigkeit - Trendsetter!
Ein etabliertes Netzwerk aus Handelsstrukturen, inhabergeführten Einzelhandelsketten und Einkaufsgemeinschaften sind ein Garant für unseren Erfolg. 
Eine deutschlandweites Produkttrainer-Team lässt keinen Zweifel an unseren Ambitionen.
Lernen Sie uns näher kennen unter: Signia Hörgeräte – Be Brilliant mit Signia | Signia und www.wsa.com
Werden Sie jetzt Teil unseres Teams als Audiologischer Trainer (m/w/d), im Außendienst - Gebiet Nord - PLZ Kreis 18 bis 29.
Ihr Profil
Kundenschulungen zur aktuellen Anpasssoftware und zum Produktportfolio des Brands "Signia"
Kundenschulungen im Bereich Messtechnik
Allgemeine Kundenschulungen für die Bereiche Anamnese, Beratung und Verkauf
Präsentation von neuen Produkten, Techniken und Software auf Messen, B2B- und B2C-Veranstaltungen
Vorproduktion und Durchführung von Webinaren
Audiologische Betreuung eines fest zugewiesenen Kundenstamms in Norddeutschland
Ihre Qualifikationen
Ausbildung zum Hörakustiker-Meister oder vergleichbares Studium
Mehrjährige Berufserfahrung als Hörakustiker
Erfahrener Anwender von MS Office und Adobe-Produkten
Erste Erfahrung in der Präsentation von Lerninhalten
Betriebswirtschaftliches Denken und Handeln
Sicheres und verbindliches Auftreten gegenüber Kunden
Hohes Maß an Reisebereitschaft und hohe Einsatzbereitschaft 
Verhandlungssichere Deutsch- und gute Englischkenntnisse
Was Sie erwartet
·Eine unbefristet Anstellung mit Beschäftigungsbeginn ab sofort
·Attraktives Vergütungspaket 
·Eigenständiges Arbeiten
·Anspruchsvolle und spannende Aufgaben mit hohen Freiheitsgrad und Gestaltungsspielraum
·Flache Hierarchien, moderne Strukturen und Prozesse 
Treten Sie mit uns in Kontakt – einfach und direkt!  Wir freuen uns auf Sie!
We usually respond within two weeks
Or, know someone who would be a perfect fit? Let them know!